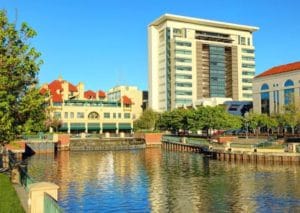 When it comes to cities in California, Stockton might be not among the most well known ones, but we can assure you that our rich history and culture makes it a great place to live. Our trained mobile mechanics are very proud that we have the privilige to serve the local community and the great citizens of this fantastic city. Each morning when we get up, we are very grateful that we can build this community together and our work contributes to the life of Stockton, CA.
Our city is the seat of the San Joaquin County and it has been founded in 1849, the current estimated population is around 310,000, making our city the 13th largest in California.
Sports play an important part in the life of the city, so we are grateful for having the Stockton Kings and the Stockton Heat.
Fun facts about Stockton, CA:
The St. Joseph's Medical Center is the biggest employer of the city, there are currently 4,600 people working there.
In 2020 we have been named as the most diverse city in the United States.
The city was built during the great gold rush in California.
In 2012 the city had to file for bankruptcy, because of the financial mismamangement which happened in the 1990s.
There has been a significant chinese immagration in the 1850s which greatly contributed to the current cultural diversity of the city.
Our neighborhoods:
Pacific
Sherwoods Manor
Weston Ranch
Our favourite restaurants in Stockton:
Our favorite sights in Stockton:
Stockton Arena
Victory Park
Buckley Cove Park
Many of our friends become very enthusiastic when they get the opportunity to visit us. This is because Stockton offers so many opportunities to the people coming here, not only culturally, but from a historical prspective as well. No matter what your main interest inf life are, our city has a lot of treasures you can explore and we can guarantee that you will be happy you gave us a chance. Not to mention that the people living here are super friendly and they will do everything to make your trip very enjoyable.